We often get asked here at Lumag HQ, "What's the difference between the HC10 and the HC15 wood chippers?".
Well, this post should highlight just a few of the variations, so that it's clearer which machine is going to work best for you.
Functions:
The Lumag HC10, or 'HC1000EW', is equipped to chip any length of wood with a maximum diameter of 10mm (10cm), whereas the HC15 is capable of cutting up to 1200mm (12cm). In addition to this, the cutting speed on the HC10 is 2400 rpm, which is actually faster than the HC15, which cuts at a rate of 2000- however, the slower cutting speed allows for more precision, fewer jams and sets you going at a steady pace to feed your larger lengths of wood. Both machines are are fitted with hand starts, however another aspect where they differ is that the HC15, due to its size can be trailed, as you can see in the stock photo on our product specification page; whereas the HC10 is smaller and needs to put towed around by hand. You will also find the HC15 to be somewhat quieter than its little brother, HC10, this is down to the steadier cutting speed along with the fact that the HC15 comes fitted with a somewhat larger, more powerful engine.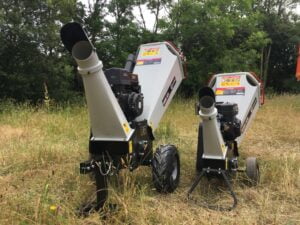 HC15 Description & Specification:
Lumag RAMBO HC15 Professional Petrol Wood Chipper
The Lumag RAMBO HC15 Wood Chipper is a powerful and professional little chipper which is great for keen gardeners or to add to a hire fleet. This wood chipper will break down all your garden waste up to an impressive 120 mm. This machine is made with a handy portable chassis and large tyres making it easy to maneuver over rough ground.
The twin blade rota is driven by a 15HP electric start engine. The blades catch onto the materials and pull them through the drum which produces nice square chip that will quickly rot down. The swivel head allows you to direct the waste where you need it. The large intake allows kinked branches and, in some cases, whole plants to be fed in with little or no preparation.
Specifications:
1 cylinder 4 stroke petrol engine
Engine power 9 kw
Engine size 420cc
Hand start
Max branch size 120 mm
Cutting speed 2,000 rpm
Weight 170 kg
Dimensions (L x W x H) 1900 x 800 x 1500 mm
Sound level LWA 110 dB (A)
HC10 Description & Specification:
Lumag RAMBO HC10 Petrol Wood Chipper
The Lumag RAMBO HC10 Wood Chipper is perfect for chipping branches and shrubbery up to a diameter of 100 mm. The twin blade drum draws the material into the chipper self feeding to a certain degree. The in-feed hopper is nice and wide allowing whole branches to be fed in with minimal preparation. The in-feed hopper is hinged on one side making clearing blockages very easy. The engine is and 100% reliable Loncin G200 and very easy to start.
Specifications:
1 cylinder 4 stroke petrol engine
Engine 196cc
Hand start
Engine power 4.1 kw at 3,600 rpm
Cutting speed 2400 rpm
Max cutting diameter 100 mm
Dimensions (L x W x H) 1670 x 570 x 1060 mm
Sound level LWA 111 dB (A)
Weight 100 kg
Please also note that any products that we currently have in stock will also be listed on our eBay shop! To see what deals we currently have running, head over to there now by following the link: http://www.ebay.co.uk/usr/lumaggb