Our Guide to Buying the Perfect Wacker Plate
Firstly, we would like to clarify that when we talk about Wacker Plates, Wackers, Plate Compactors or Vibratory Plates we are talking about a machine that is used to compress soil and/or gravel which is most commonly called a Compactor Plate. As with the terms hover and vacuum cleaner these names have become interchangeable and we will refer to them all throughout our guide.
If you are looking for a Wacker Neuson branded machine then I'm afraid that you have come to the wrong site. What we have on offer are better value equivalents!
Our current selection of Wacker Plates range from 60 up to 300 kg. Whether you are after a Petrol, Diesel, single direction, forward/reverse or one with a built-in water system we are sure to have a Wacker to suit your requirements shop now.
If you are after something economical, or if you are working on a site with only a Diesel fuel supply, then one of our Diesel Compactors could be the perfect choice for you. Although a Diesel is likely to half the cost of fuel and save you having multiple fuel supplies on site, you need to bear in mind the higher initial purchase cost and service costs which would mean you would have to carry out much more work to justify the expense.
In addition, Diesels have a poorer power to weight ratio meaning that you need a heavier machine, than an equivalent petrol, to complete the task. If you compare our Lumag RPi15D Diesel Compactor to our Lumag RP1100PRO Wacker, which is the nearest Petrol equivalent, you will see that both offer the same travel speed and compaction speeds but the Lumag RPi15D Diesel is 35 kg heavier than the Lumag RP1100PRO which weighs in at 95 kg and costs £380.00 more.
19″ Diesel Forward/reverse Compactor Plate
20″ Diesel Forward/reverse Wacker Plate
If you are looking for a Compactor that is easy to manoeuvre, yet still packs a good punch, our range of dual direction forward/reverse Compactors will be the ones for you. The reversibility drastically improves the operators control of the machine. The operator can work the machine up to a wall or along a trench without having to drag the machine backwards avoiding undoing the good work that it has done and saving considerable time and effort. This comes in particularly useful when using some of the heavier Wacker Plates, which may be too heavy for a single operator to drag backwards.
Our reversible Wacker Plates use a mechanical system which is both simple, robust and reliable. If you are a grounds work contactor, or a paving contractor, bigger really is better. Our dual direction forward/reverse Compactors will give you the size and manoeuvrability. You should have the work to justify the cost and the machines needed for the loading and unloading of your Wacker plate on site.
 19″ Diesel Forward/reverse Compactor Plate
20″ Diesel Forward/reverse Wacker Plate
19″ Petrol Forward/reverse Compactor Plate
20″ Petrol Forward/reverse Compactor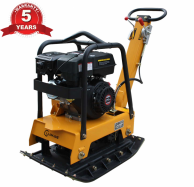 18″ Petrol Forward/reverse Wacker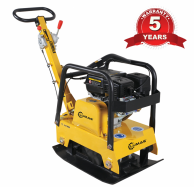 If you are planning on using your Compactor for tarmacking, or if you are working in an area where dust suppression is necessary, then one of our Wackers with a built-in water system would be an ideal choice.
We currently have 3 Wacker Plates in our range with built in water systems. Their primary function of a water system is for tarmacking. The water system prevents the tarmac sticking to the base plate. Wacker Plates with water systems are often good for dusty environments too so they may be worth considering even if you are not a road worker.
If you are tarmacking large areas then it may be worth opting for one of our larger dual direction forward/reverse Compactors as they will allow you to cover large areas of ground in a shorter space of time without compromising the manoeuvrability.
If you are planning on using your Wacker for tarmacking but prefer the look of one of our Wackers that does not have a built in water system then it is possible for you to have a water system fitted for an additional cost by your local Lumag dealer. Please get in contact for more information about this service, including price.
Why Not Give us a Call?
If you are having difficulty deciding which Compactor is the right one for you then why not give us a call on 01837 811741 or complete our Request a Call Back from? Our office is open from 08.00 until 17.30 Monday to Friday. During these times our dedicated customer service team will be on hand to offer expert knowledge and advice to make sure that you purchase the right Compactor for the job.
Here are some examples of how we have helped our customers in the past:
On one occasion, we had a customer call up wanting to place and order for a Lumag VP60 Wacker Plate. After a quick chat, to discuss his requirements, we established that he was purchasing the Wacker for a big block paving job and had selected the Lumag VP60 based on its price.
After going through the different compaction forces and plates sizes of the other Compactors in our range it became clear that it would make much more sense financially for him go for an Lumag RP1100PRO. This Wacker Plate was 440mm wide compared to the Lumag VP60 at 300mm, had 15Kn of compaction compared to 8.5Kn and very similar travel speeds (Lumag VP60 22m/min Lumag RP1100PRO 20m/min).
By taking the time to go through our customer's requirements he ended up purchasing a machine that could cover the same area approximately 50% faster than with a Lumag VP60 saving him time and money.
On another occasion, we had a one-man band landscaper wanting to purchase an Lumag RP1400PRO which is our Wacker Plate with the best Kn per £). Whilst he had thought about the time savings that the bigger Wacker Plate had to offer he had not though about how he was going to but how he was going to shift around the 130 kg machine on his own?
Although all of our machines come with a FREE transport axle, moving a 130 kg machine across rough ground on your own can still hard going. After pointing out this out to him he decided he decided to go for a Lumag RP700PRO, a cheaper smaller machine. With our expert knowledge, we helped him to select the Wacker Plate that was right for him. And that's what matters.