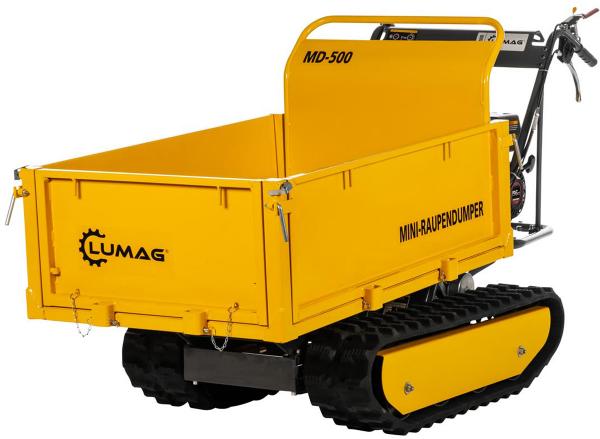 Equipment features:
– The small all-rounder MD-500 helps where work was previously tedious. For example moving loads on challenging terrain or transporting wood and bulky goods.
– The emptying is done conveniently with the tilting container.
– Incl. Gas pressure spring for easier unloading of the skip
£2,595.00 (excl. VAT: £2,162.50)
The Lumag MD500 mini dumper is a handy little dumper that takes the back ache out of a huge variety of material handling tasks. Whether it's moving paving stones to a patio at the end of a garden, stone walling rocks up a steep path or just logs for the fire the removable drop sided skip can do it all. Tipping is assisted by a pneumatic ram. This machine is powered by an excellent Loncin engine which is easy to start and ever reliable. At only 770mm wide this machine is great even when access is limited.
*Delivered fully assembled & ready to use*
In stock
SKU: MD500
| | |
| --- | --- |
| engine | 1-cylinder 4-stroke OHV LONCIN engine |
| Displacement | 196 cc |
| power | 4.8 kW |
| Operating speed | 3,600 rpm |
| Starting device | Reversing starter |
| drive | Gear transmission |
| brake | Automatic safety brake |
| steering | Steering brake |
| Height of side walls | 325 mm |
| own weight | 228 kg |
| Load max. | 500 kg |
| Tilting device | mechanically |
| Working speed forwards / backwards, max. | 3.6 / 1.2 km / h |
| Dimensions (LxWxH) | 1770 x 770 x 1020 |