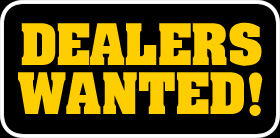 Here at Lumag  Distribution, we aim to offer our impressive range of products at a fair price and with great service.
We create partnerships with professional machinery sales companies in the UK and Ireland.
We are working toward delivering ALL our product through our dealer network. Creating mutually beneficial relationships with our dealers providing great service to our customers.
Our dealers and service agents benefit greatly from working with us, increasing sales revenue and servicing work.
Our range is always growing offering chances to increase revenues and diversify the products you offer.
We carry a vast range of spare parts for our products in our UK warehouse.
Our dealers will receive marketing support from us, We can help you out on shows and open days, We will help out on local facebook marketing, We also offer free of charge "Dealer Mini sites" that are optimized for our products in your area! We can also offer free marketing material in the form of leaflets catalogues and banners. We are always here to help you.
Please have a good look at the range of machinery we offer and feel free to call us if you have any questions on 01837 811741 or email sales@lumag-gb.co.uk.
We would be happy to come and pay you a visit and demonstrate some of our products.