Delivered free next working day ready to use!

5-year domestic warranty, 2-year Business!
The Lumag VP60 Compactor plate at 60kg in weight and 300mm wide is lightweight, small and versatile. This wacker is the smallest in the Lumag range and as with all our plate compactors you will need to purchase the transport wheels and polyurethane paving mat separately
The Lumag VP60 wacker plate compactor has been designed with the user in mind. Unlike leading brand wackers the Lumag VP60 compactors feature a remote throttle control, mounting the wacker plates throttle up on the handle, not down on the side of the engine. The handle for the compactor plate has been made it two parts and folds down easily for storage or transport in your vehicle. The wacker plates handle also has a foam handle cover improving operator comfort and safety. The Lumag VP60 compactor plate has been fitted with a 2KW Loncin petrol engine, this engine has proven to be very reliable and features a low oil sensor automatic decompression for easy starting. For this year the engine has been upgraded to the EURO V standard improving fuel efficiency and emissions.
The VP60 compactor plates, the base plate has been designed with an integrated agitator where the vibrator shaft is mounted within the makeup of the wackers base plate assembly allowing for a more effective transfer of power between the compactor plates vibrator shaft and base plate. The compactors base plate also features an integrated lifting handle above the vibrator assembly. The power from the wacker plates Loncin engine is transmitted to the agitator via a robust centrifugal clutch and strong Vee belt. The compactor plates belt is covered by a neatly designed belt cover.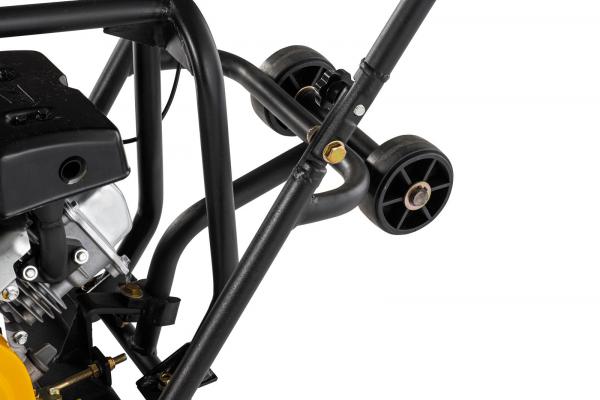 The wacker plates engine is protected by a frame looping over the engine, this has been designed with a double use and can be used as a lifting eye, making the loading of your compactor plate easy.
As with all of Lumags Compactor plates the VP60 wacker plate you willl need to purchase the polyurethane mat for use with block paving and a set of transport wheels to complete the compactor plate. The transport wheels on this wacker plate are the ?clip up design? and have a rubber clip retaining the wheels while the machine is in use and can be simply kicked down and under the base plate when the wacker plate needs moving.
As with all our petrol compactor plates, we offer 2-year business warranty and 5 years for domestic use.
We offer full spares back up on all our products including our compactor plates.
Finance is available on bigger orders, (minimum value ?1500) you can add wackers to a bundle? please follow the link on the home page
£469.00 (excl. VAT: £390.83)
Compactor Plate Lumag VP60 8.4KN 12″ 60KG
In stock (can be backordered)
SKU: VP60
| | |
| --- | --- |
| Motor / drive | 1-cylinder, 4-stroke OHV petrol engine |
| Fuel tank | 1.6 l |
| Engine power | 2.0 kW |
| Plate length | 435 mm |
| Plate width | 300 mm |
| frequency | 60 Hz |
| Centrifugal force | 8.2 kN |
| Area performance | 350 m² / hour |
| Max. Feed | 22.2 m / min. |
| Vibration shocks | 5,900 vpm |
| Compaction depth, max. | 20 cm |
| Max. Permissible inclination of the motor | 20 ° |
| Gar. Sound power level LWA | 105 dB (A) |
| Operating weight | approx. 58 kg |
| Transport weight (gross) | approx. 64 kg |
| Packaging dimensions (LxWxH) | 640 x 350 x 620 mm |